As a club, you want to do everything within your power to minimize the risk on unsuccessful transfers. When you considers to sign a player, you might - for several reasons - make some incorrect assumptions. With our Second opinion service, we evaluate a player based on many hours of video footage, with a large team of scouts. Our reports reduces the chance of unsuccessful transfers by either confirming or challenging your decision to sign a player.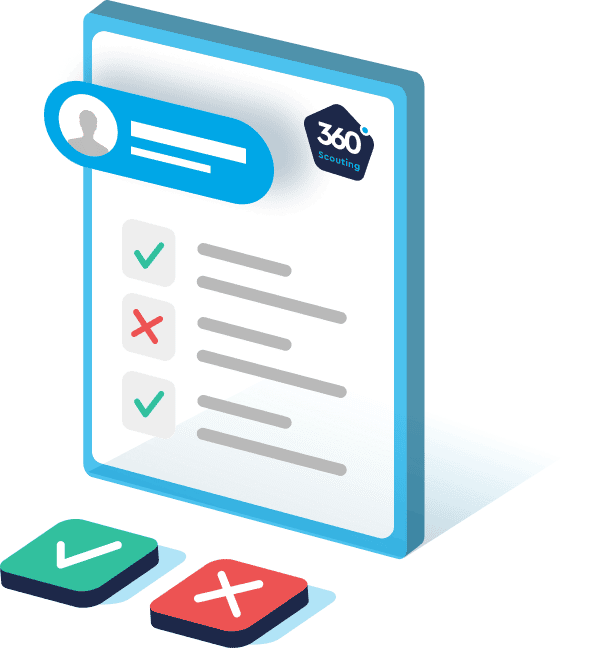 Process steps
When we perform a Second opinion for a club, we go through the following steps.
Tactical briefing
To begin with, we'll discuss which player to evaluate and – in great detail – what you would expect of him within the team's playing style.
Create schedule
Internally, we'll create a schedule for our scouts, who will cover a great amount of matches, combining full match footage with individual player clips.
Perform scouting
Next, our scouts will watch the footage, report on the players and save video clips of the most relevant football actions.
Compile report
We then compile a report based on the input from the video scouts, and draw a conclusion about our findings.
Create playlist
Besides the written report, we'll create a playlist of the player's strengths and weaknesses to visually support our findings.
Present findings
The final step is to hold a meeting where we present and explain our findings and discuss the player in great detail.
Practical example
Let's say your club considers signing a central midfielder from Poland. He was offered by an agent to your club's sporting director and was evaluated positively by three people in the scouting team.
This doesn't necessarily mean he'd be a good signing. Maybe the scouts influenced each other. Or you only watched some of the player's better matches.
When we make a very extensive report about a player, we are unbiased. We have no pre-existing information on the player. We just simply look at his football actions, and rate him.
For this specific midfielder from Poland, we might see him play in different matches than your scouts did. Or we might assess his strengths and weaknesses a bit differently.
Maybe we support your decision to sign the player. Or maybe we don't. In any case: it provides you with a new perspective, which inevitably leads to better decision making.
Interested? Schedule a call
Join us for a 
30-minute introductory call. In this call, you will learn more about our vision, track record, pricing, and success stories in improving player recruitment.